Step into the World of Wonder
At MKP Entertainment, we believe that magic is more than just tricks and illusions; it's a portal to a world where the boundaries of reality blur, and imagination reigns supreme. Our specialised Magic Shows for children are crafted to do just that — transport young minds into a realm where anything seems possible, where every moment promises delight, surprise, and sheer wonder.
Check out our very popular Ultimate 2hr Party Package: Disco, Games, and Magic! if you are looking for a mix of activities!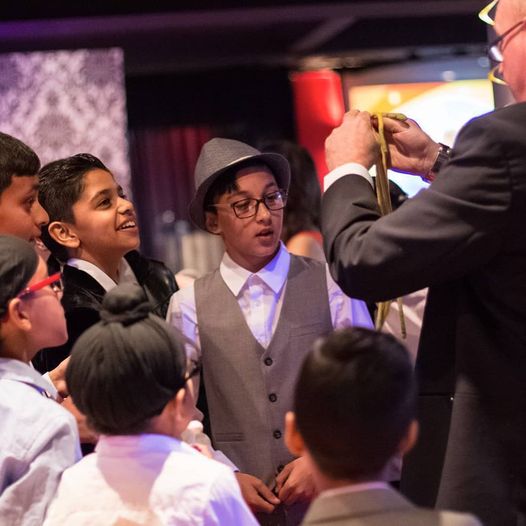 Without the constraints of a stage, our magic shows embrace flexibility. Whether it's a cozy living room setting, a back garden birthday bash, or even an outdoor picnic area, our magicians seamlessly integrate into your chosen venue. This adaptability ensures that the magical experience remains intimate, personal, and deeply engaging for the young audience.
Interactive and Immersive
Our Magic Shows aren't just about watching; they're about participating. Children are not merely spectators but become an essential part of the enchanting tales we weave. Be it assisting with a trick, predicting an outcome, or even learning a simple illusion, we make sure that every child feels the magic firsthand, leaving them both spellbound and empowered.
Tailored to Young Sensibilities
Understanding the diverse and dynamic minds of children, our performances are curated to appeal to various age groups. From whimsical tales for the little ones to more intricate illusions for the older kids, our magicians ensure that the content is age-appropriate, captivating, and above all, fun!
Crafting Memories That Last
With MKP Entertainment, magic shows are more than just an event; they are experiences etched in memory. The astonishment in their eyes, the gasps of surprise, and the echoes of laughter are testimonials to the joy we bring. When the show concludes, the magic doesn't end; it lives on in the stories they share, the tricks they try, and the world of wonder they continue to explore. Book now with MKP Entertainment and let's create some magical moments together!